Meet Dr. Huynh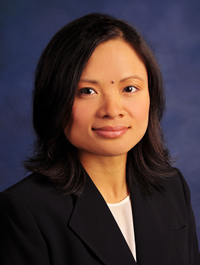 Dr. Loan Huynh grew up in Raleigh, North Carolina. At thirteen, she ran track as well as played team sports. At this time she started exploring healthier eating habits while developing an enthusiasm for healthy living. After high school, Dr. Huynh attended the University of North Carolina at Chapel Hill majoring in nutrition. It was not until she worked for a chiropractor, the late Dr. Meg Hurley in Durham, that she realized chiropractic was the profession she was meant to pursue. She noticed that patients came in with pain and other discomforts and left Dr. Hurley's office feeling better, happier, and pain-free. Dr. Huynh was ecstatic to have "discovered" chiropractic medicine. Finding a NATURAL healthcare methodology that uses our hands, nutrition, and other natural therapies to allow the human body to heal itself was a perfect fit for her.
Dr. Huynh chose to attend New York Chiropractic College based on its reputation of academic excellence. After graduating Magna Cum Laude with a Doctorate in Chiropractic, Dr. Huynh traveled to Bali for a four week chiropractic mission trip to treat the underserved Balinese. She found the trip to be a very rewarding and humbling experience.
After the trip, Dr. Huynh practiced in a multidisciplinary clinic in Pennsylvania with physical therapists, massage therapists, personal trainers, and other chiropractors. She enjoyed the collaborations of other healthcare providers to provide the best care for her patients. In this practice she utilized a number of chiropractic techniques, muscular therapies, therapeutic exercises, as well as nutrition to provide a comprehensive approach to musculoskeletal problems. She worked on a variety of patients ranging from infants to seniors, from people in pain to healthy individuals who wanted to achieve optimal wellness.
After three years in Pennsylvania, Dr. Huynh returned to Raleigh to open Optimal Wellness Chiropractic Center. Having taken numerous post-graduate seminars in functional medicine, Matrix Repatterning Therapy,NRT, and NET, she is ecstatic to offer a more comprehensive approach to helping people with health concerns/chronic issues such as pain, fatigue, diabetes, digestive and thyroid disorders, hormonal imbalances, autoimmune diseases, and much more.
Dr. Huynh is passionate about helping people heal and restore their health. She helps transform her patient's health by first determining the root cause of their health condition, and then developing successful protocols to correct the problem. Acting as a sort of medical private investigator, Dr. Huynh spends the time and attention to listen to her patients and put the pieces of the medical picture together—getting to the foundation of the problem.